Select USA main sessions starte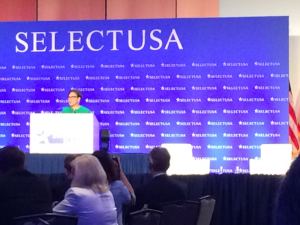 d today with opening statement by Secretary of Commerce, the Honorable Vinai Thummalapally.
United States is ranked the best nation for investment 4 years in row.
22.5 Billion USD of new investment in 2015 and 67 projects creating 5,400 jobs just for 1st quarter of 2016.
---
President Obama spoke to the audience at the lunch meeting.
SelectUSA is the organization started by the Obama Administration 7 years ago to invite investment to the US,, create jobs and provide services to forelgn investors.
Success in the U.S. market can help drive success globally. With an annual GDP of $18 trillion and population of over 320 million, the United States is the world's most attractive consumer market, offering unmatched diversity, a thriving culture of innovation, and the most productive workforce. Companies of all sizes – from startups to multinationals – can find the ideas, resources, and market to succeed and grow.